Sarah serves as Interfaith Chair and as the new Director of Spiritual Life on her campus (beginning January 2024).
Stay tuned for updates coming soon!
---
Some Past Events (A Partial List)
Religious Inclusivity panel @ AAC&U conference (Washington DC, January 24, 2019)
Religious Inclusivity Workshop, co-created with Noah Silverman (Interfaith Youth Core) @ University of Denver, December 17-18, 2019
---
Read AAC&U cover story (Nov. 2019) about Sarah's work on "Interfaith your calendar" + "Holiday Fact Sheets" + "InterfaithIt App" Projects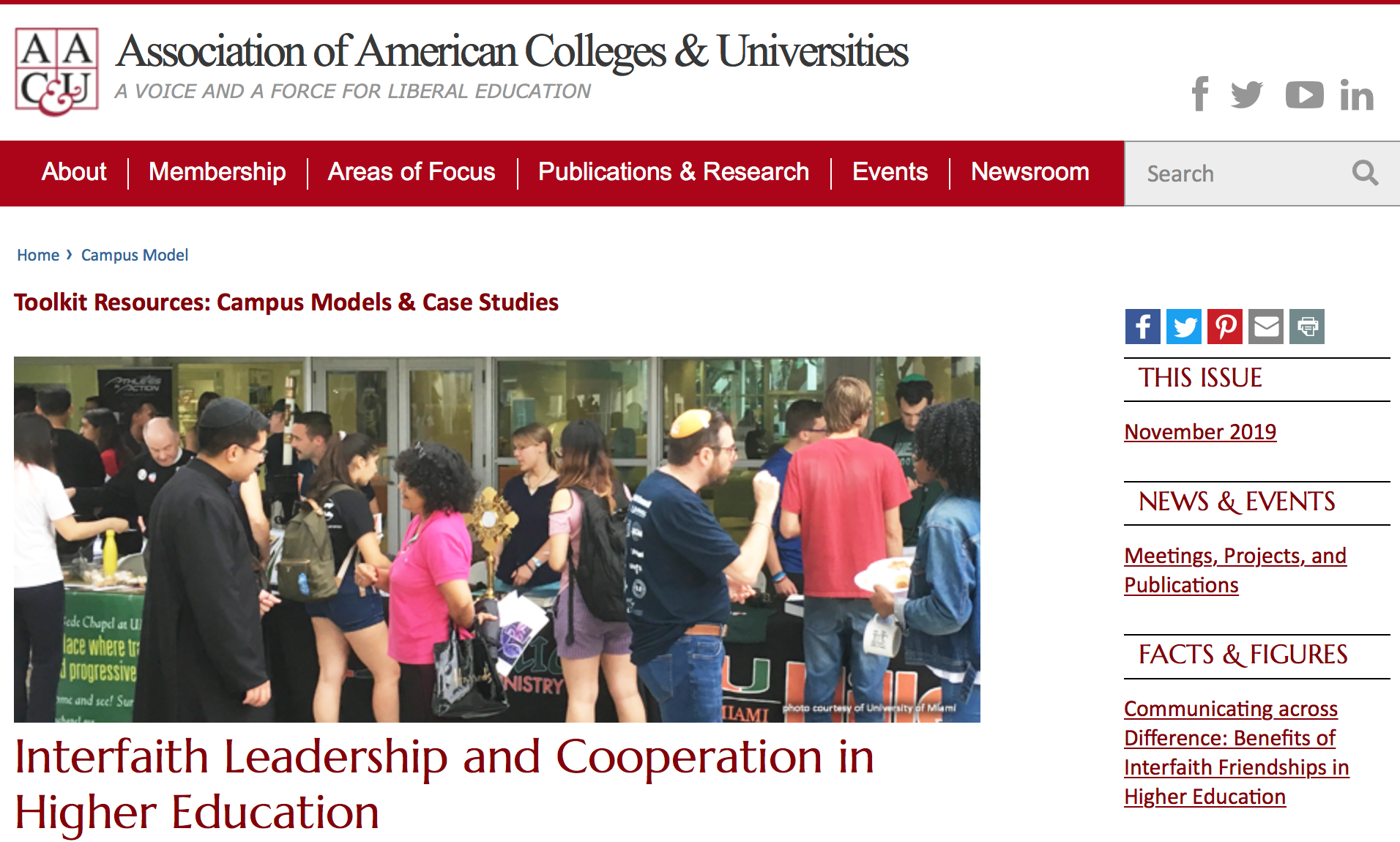 Click below to read the article!
Read about efforts to increase religious inclusivity in higher ed in this AAC&U feature story (Nov. 2019)
---
Some background on some of Sarah's religious inclusivity projects
In 2017, Sarah curated and created the "Interfaith Your Calendar" project (in connection with her launching the 2017-18 DU Interfaith Challenge)which provides step-by-step instructions for transforming everyday online calendars into interfaith calendars. She also developed the "Holiday Fact Sheets" project and initial template which was expanded to 6 initial fact sheets in 2018-19 in partnership with Center for Judaic Studies staff and Inclusive Excellence Fellows (Amy Balogh, Emily Bishop, and Courtney Robinson), and Religious Studies colleagues (Andrea Stanton and Greg Robbins).
Sarah is currently working to expand this project nationally in partnership with colleagues at Miami University, Concordia College, and Gallaudet University.
In Winter-Spring 2019, Sarah partnered with Office of Teaching and Learning colleague Christina Paguyo and Department of Computer Science colleague Susanna Sherba to support the development of a new "InterfaithIt" app by DU undergraduates as a class project in Susanna's class. The student developers are: Cesar Caraveo, Trace Levinson, Trenton Parotte, Isabelle Ro, and Sally Stern; Cesar and Trenton continue to work on fine-tuning into Summer/Fall 2019. Stay tuned for a national rollout of this app this year!
Click here for details on how to "interfaith" your calendar!
"Teaching Interfaith Understanding" workshop (IFYC + CIC) (June 2019)
Sarah participated in "Teaching Interfaith Understanding," a special Interfaith Youth Core (IFYC) – Council of Independent Colleges (CIC) workshop led by Eboo Patel and Laurie Patton in Chicago in June 2019. As part of this workshop, Sarah is developing a new undergraduate philosophy course on Interfaith Civics; she expects to teach this at DU upon her return from Sabbatical in 2020.
Religious Inclusivity Initiative (IFYC + AAC&U) (2018-present)
In Spring 2018, Sarah co-authored a winning grant proposal (with Andrea Stanton, DU, Religious Studies) procuring DU one of 10 spots in a new national Interfaith Youth Core (IFYC) – American Association of Colleges and Universities (AAC&U) project.
Sarah is the Team Leader for DU's Religious Inclusivity Initiative (RII) in connection with this new national project:
Dedicated to whole student development and an intersectional approach to religious identities and expressions, we aim to raise greater awareness of and respect for the multiple religious and spiritual practices, beliefs, and cultures on our campus and beyond.
Council of Independent Colleges (CIC) Grant (2019-20)
Sarah is part of a team at University of Denver who have been awarded a CIC grant for a new project connecting students to Jewish History archival resources and working with them to bring that material to bear on contemporary public health ethics, including interreligious issues, and including issues in racial health equity.
Mellon Foundation Grant: Interreligious Dialogue (2019)
Sarah is part of a team at University of Denver who have been awarded a grant for a new Interreligious Dialogues project.
DU Madden Center, Interfaith Project Grant (2018)
In Spring 2018, Sarah was awarded a pilot grant and a Winter 2019 course release (with Greg Robbins and Andrea Stanton, DU, Religious Studies) from the College of Arts, Humanities, and Social Sciences' John Madden Center for Innovation in the Liberal and Creative Arts (formerly 'CILCA')); the grant relates to creative interfaith "keystone" additions to the Center for Judaic Studies and Department of Religious Studies.
Parts of Sarah's late grandmother's button collection. Her grandmother was a Holocaust Survivor. Sarah dedicates all her interfaith and spiritual work to the memory of members of her immediate family who were lost in the Shoah.